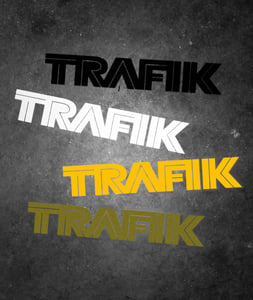 $

5.00
Vinyl die-cut TRAFIK decals. Looks great on your bike, your laptop, your dog. Whatever.
• Instantly increases the value of your bike
• Chicks dig it
• Handmade in L.A.
SIZE: 6.5"x1.13"
Check out our Signature Decal - TRAFIK REFLECTIVE BLACK. Looks black on the regular, but shines bright when headlights hit it. All the cool kids got em.
Colors: Black, White, TRAFIK Yellow and Gold Flake.